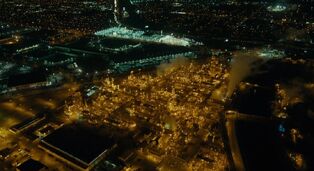 A tiny, fictional California city, with no sense of identifiable qualities or features, set on the sprawling edges of Los Angeles County. 
Vinci
 is an industrial money making machine built and shared by mutual parties. Massive cases of land-grabbing, countless acts of extortion, heavenly salary hikes for Vinci City Council authorities and dubious police interferences has put heat on the city. Although 70,000 people work in the city, only 95 people live there. Vinci started out as a vice haven in the early 1900s. It went industrial in the 1920s and the residents were pushed out from manufacturing zones. The city is the worst air polluter in California, annually emitting or processing 27 million pounds of toxic waste. California Central Rail Corridor - a $68bn central high-speed railroad is the talk of the town but it get scandalous with the advent of Los Angeles Times leading an eight part investigative series labeling the city as "the most corrupt district in LA County" in its
Tuesday edition
on 27th November 2015.
Former Vinci city mayor was Austin Chessani who was murdered, probably by one of Tony Chessani's men.
Current Vinci city mayor is Tony Chessani.
Landscape & Geography
Edit
Vernon is an establishment of transmission lines, power plants, sweatshops, meatpacking warehouses, refineries and vast freeways adjoined with spreads of housing establishments.
Vinci takes a semblance of inspiration from the real city of Vernon , California
 A major shot of the water tank featured in Ep1 showcases the striking similarity between Vernon and Vinci
Widespread corruption charges were levied on Vernon in 2010
Vinci has a subway line.